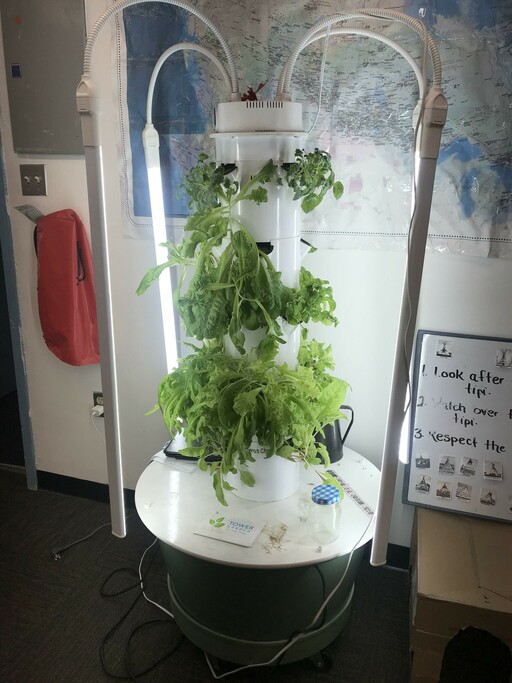 Sherwood Park, AB. — The Keeping Tobacco Sacred project—an initiative of Michel Blades Bird, teacher at the Ranch Learning Centre near Lamont, Alta.—provides students with an opportunity to grow, cure and prepare tobacco from seed. The project has earned Blades Bird a 2021 Governor General's History Award for Excellence in Teaching and is reconnecting students to land, culture, language and identity.
"Our students are often limited in their access to Elders, ceremony and family teachings because they're in government care," says Blades Bird. "This project work is influential in guiding their sense of belonging and identity. The hope is that students gain a lifelong connection to language, ceremony, identity and themselves, and they can carry these teachings into their own families and lives outside of the system they live within today."
The project is a combination of connecting students to Indigenous teachings, ceremony and protocols and a focus on science outcomes that relate to plants, growing and land-based education. In the classroom, students are growing tobacco plants in an aquaponic tower garden. They're involved in the day-to-day care of the plants, learning about plant systems and later about the curing of tobacco leaves and the significance of these plants in Indigenous cultures.
"Many of our students have been exposed to the offering of protocol but sometimes without the understanding of what it means," says Blades Bird. "Through the process of growing these plants from seed through to maturity and then curing and preparing them to offer as protocol, students gain a deeper understanding and appreciation for the time involved and have an opportunity to reflect on the significance of offering protocol. The process gives them a sense of empowerment, knowledge and understanding."
The Keeping Tobacco Sacred project is just one of many aspects of First Nations, Métis and Inuit education taking place at the Ranch Learning Centre. Other initiatives include Cree language studies, opportunities for drumming, sewing—powwow regalia, ribbon shirts, beading and ribbon bags—smudge preparation and teachings, outdoor tipi classroom, campfire cooking and outdoor school on a weekly basis to Elk Island National Park. With the prize money received, Blades Bird hopes to expand the Cree language learning at the school by adding more Cree language resources and bringing a Cree language teacher into the learning routine.
"On behalf of the Elk Island Public Schools Board of Trustees, I want to congratulate Ms. Blades Bird on this innovative project," says Trina Boymook the Board Chair of Elk Island Public Schools. "We know students are more engaged in their learning when the topics are relevant to them. This is a wonderful example of relevant, engaging learning while also providing an opportunity for students to learn more about Indigenous culture."
Blades Bird is one of six recipients of the 2021 Governor General's History Award for Excellence in Teaching. Each recipient receives a $2,500 prize and the recipient's school also receives $1,000.
The Governor General's History Awards are administered by Canada's History Society and recognize excellence in five categories: community programming, museums, popular media, scholarly research and teaching. The awards are Canada's top history honours and involve Canada's history and heritage community's leading agencies. Each award category is administered by the presenting organization and has its own jury, selection process and prize structure.
Related information:
Canada's History New Release: Michel Blades Bird
Interview with Michel Blades Bird
EIPS is one of Alberta's largest school divisions, serving approximately 17,125 students in 43 schools. We're proud to be an integral part of our communities, including Sherwood Park, Fort Saskatchewan, Vegreville, Strathcona and Lamont counties and the western portion of the County of Minburn.
–30–
For more information contact:
Laura McNabb, director, Communication Services, EIPS 780-417-8204 cell 780-405-4902