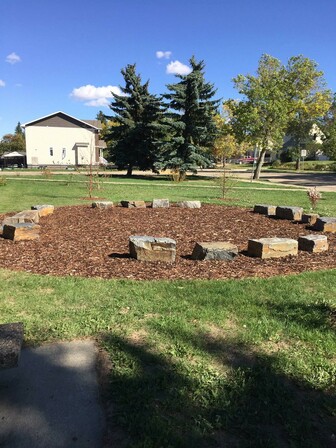 Sherwood Park, AB. — On Friday, September 17, Elk Island Public Schools (EIPS) will celebrate the official grand opening of land-based learning spaces at Division schools.
As one component of First Nations, Métis and Inuit education in EIPS, land-based learning spaces invite students, staff and community members to sit with and on the land and listen to the story it shares. They are spaces of reflection and connection—with ourselves, with each other and with the earth.
"As a Board and administration, we recognize our responsibility to expand Indigenous education and truth and reconciliation education within schools for the benefit of all students," says EIPS Board Chair Trina Boymook. "Land-based learning spaces provide another opportunity for us to listen to the teachings of the land, Indigenous Elders, educators and all those who gather in these spaces and deepen our understanding of the ways in which we're connected to the earth, to ourselves and to one another so we can all move forward together toward healing and reconciliation."
To date, 13 schools throughout the Division have introduced land-based learning spaces and plans are underway to create spaces at more schools. No two locations are the same—the spaces at each school are as unique as the land of which they are a part.
Funding for the initiative has come from a variety of sources, with a large contribution for spaces in Fort Saskatchewan and Bruderheim supplied through grant funding from the Shell in the Community: Fuelling Kindness initiative of Shell Canada.
"We're thankful for the partnership with Shell Canada and the relationship the Division has established with Shell Scotford over the years," says Board Chair Boymook. "Community partnerships such as these are a great example of how we can come together to further Indigenous education in the communities we serve."
Media are invited to attend the ceremony. Public-health measures such as physical distancing and masking must be respected:
Date:                     Friday, Sept. 17, 2021
Time:                     1 p.m.
Location:               Fort Saskatchewan High School
                              10002 97 Ave., Fort Saskatchewan, AB
Friday's event will include wisdom shared by Elder Wilson Bearhead and EIPS First Nations, Métis and Inuit education consultants, as well as greetings from the EIPS Board of Trustees, Shell Canada and Fort Saskatchewan High students.
For more information on EIPS First Nations, Métis and Inuit education, visit eips.ca.
–30–
FOR MORE INFORMATION CONTACT: 
Laura McNabb, Director, Communication Services, EIPS 780-417-8204 cell 780-405-4902