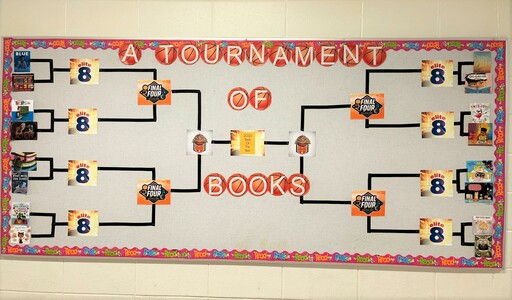 Sherwood Park, AB. — Taking inspiration from basketball's iconic March Madness, Elk Island Public Schools (EIPS) students are facing their own tournament but instead of shooting hoops, they're flexing their reading muscles. The aptly titled, March Book Madness pits students' favourite books against each other in a literacy showdown. "I'm excited for March Book Madness," says Quinn Dickinson, a Grade 4 student at Lamont Elementary. "I remember doing it last year—it was really fun reading all of the books."
Students from across the Division will begin reading a series of selected books and casting votes on their favourites as part of the annual event. March Book Madness uses a bracket-style tournament method where books compete against each other, similar in format to the NCAA March Madness basketball tournament. Students start with 16 books. During each bracket, two go up against each other and are then voted on—majority-rule style. Votes are then tallied, and whichever book gets the most points moves on to the next round.
"Events like March Book Madness are so important for students, no matter what age," says Larissa Berlin, a library technician at Andrew School and Fort Saskatchewan High. "They find new books to be interested in or see a book they already love become the champion! It gets students engaged in their own literacy and motivates them to sign out books they may not have thought to before."
Students read both competing books in the bracket and then discuss them at length focusing on compelling characters, plot development and why one book should win over the other. They'll either read books from the March Book Madness website or those school staff have chosen. "The books selected showcase a wide range of diversity," says Berlin. "And reading is such an important skill to have. Students expand their vocabulary, foster their reading comprehension ability and hone their writing skills. These benefits help students succeed in post-secondary education and in the workplace."
Several schools are participating in this year's March Book Madness, including Andrew School, Bruderheim School, Lamont Elementary, Uncas Elementary, James Mowat Elementary, Glen Allan Elementary, Heritage Hills Elementary, Fort Saskatchewan Elementary, Fort Saskatchewan High and others.
"Books put you in a different mindset," says Brynlee Butler, a Grade 5 student at James Mowat Elementary. "They capture your mind's eye and inspire creative ideas for your own writing."
Elk Island Public Schools is one of Alberta's largest school divisions, serving approximately 17,460 students in 43 schools. We are proud to be an integral part of our communities, including Sherwood Park, Fort Saskatchewan, Vegreville, Strathcona and Lamont counties, and the western portion of the County of Minburn.
–30–
For more information contact:
Laura McNabb, Director, Communication Services, EIPS 780-417-8204 cell 780-405-4902