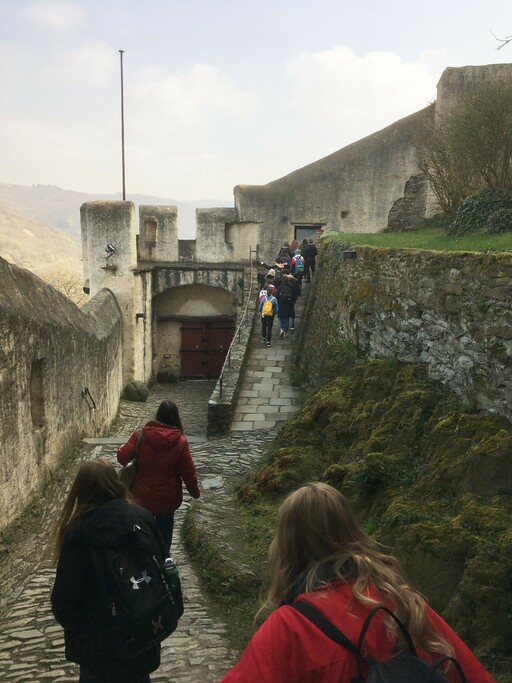 Sherwood Park, AB. — Twelve students from Salisbury Composite High are preparing to embark on a two-week adventure to Germany this spring break. The trip is the second part of an international exchange program, where students from both countries have the chance to apply their language skills and experience the culture of their counterparts in an immersive setting.
"I'm really excited to experience the German language as it exists naturally," says Annika Beamish, a Grade 12 student at Salisbury Composite High. "The exchange will allow us to use the language outside of the classroom and connect with people more easily. Exploring the country with a German host family is also pretty awesome. I've been able to chat with my partner through social media and get a taste of what's to come when I visit—which includes lots of castles!"
From March 25 to April 8, Salisbury students will travel to several locations across Germany. They'll first meet up with students from Nikolaus-August-Otto School in Bad Schwalbach, Germany who visited Canada as the first part of the exchange in the fall. Several days will include experiencing life as a German student, following their partners to familiar classes such as math and chemistry, but with instruction entirely in German.
Students will then take a variety of field trips with their partners. Highlights include a guided tour in the open-air museum Hessenpark and a visit to the educational institution Bildungsstätte to learn about Anne Frank's early life. The Canadian students will also take an overnight trip to Heidelberg, a medieval university town, where they'll tour the centuries-old buildings and walk in the footsteps of 14th century scholars. In addition to classes and group activities, each Canadian student will go on individualized trips with their host families during evenings and on weekends.
"Students get to see some of the benefits of learning another language, after putting so much effort and time into doing so," says Cameron Archer, a German teacher at Salisbury Composite High. "When they travel, they experience the culture in a way that is only possible when you speak the local language. I'm happy to see the intercultural understanding grow between the European and Canadian students, and I'm excited to maintain this international partnership for years to come."
The Salisbury German exchange program also includes a separate three-month reciprocal exchange supported through Alberta Education. One student from the school has chosen this route instead of the two-week exchange and has resided in Germany since February.
"I love learning languages and understanding traditions different from my own," adds Beamish. "Getting to go on an adventure like this is so cool and I can't wait to see what opportunities this will bring."
Elk Island Public Schools is one of Alberta's largest school divisions, serving approximately 17,460 students in 43 schools. We are proud to be an integral part of our communities, including Sherwood Park, Fort Saskatchewan, Vegreville, Strathcona and Lamont counties, and the western portion of the County of Minburn.
–30–
For more information contact:
Laura McNabb, Director, Communication Services, EIPS 780-417-8204 cell 780-405-4902