Gaining Steam: How senior high gave two brothers the head start they needed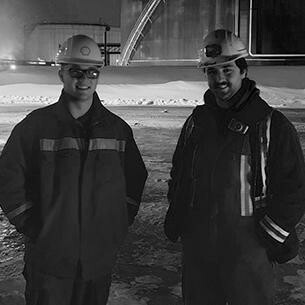 Imagine having the opportunity to set yourself up for life while still in senior high. That's precisely what happened to brothers Jake and Luke Farrell while attending Lamont High. Both brothers enrolled in the school's fourth-class power engineering program, giving them the training and steam time needed to become certified power engineers—right out of senior high.
"For most, it's hard to get a start in the power-engineering sector," says Jake Farrell, 23. "You have to fight to get into a college program and then again to get an internship placement. That wasn't the case for us. We finished our internship steam time before even finishing high school. It put us ahead of so many other people."
A sentiment, Luke Farrell, 22, shares: "To get so far ahead right after high school was huge for us. It set us up for the rest of our life, while also giving us a work-first mentality."
The fourth-class power engineer program, offered to all senior highs throughout Elk Island Public Schools, is a partnership between the Division, Northern Lakes College and industry partners such as Shell Canada and Nutrien. Its goal is two-fold: To prepare students for life after high school and develop the region's future workforce. While enrolled in the program, students complete power-engineer courses using Northern Lakes College programming, and gain steam time through internship opportunities. For most students, it's a game-changer.
So much so, Jake and Luke have two younger brothers who are also completing the fourth-class power engineering program. "It would be pretty cool if all of us end up working in the same sector," says Jake. "One of the reasons they chose to follow the same path as us is because they look up to us and see how positive both the program, and job, have been. Who knows, maybe it will set a good foundation for our family's future generations too."
Today, both brothers now work full-time at Shell Canada in Scotford. Already, Jake has his fourth-class power engineering ticket—almost unheard of for a 2016 graduate. Meanwhile, Luke who graduated in 2017, boasts three years of experience working in the power engineering sector—again, not common. "We both feel lucky to have had the opportunity to take the program at Lamont High and for Shell taking a chance on us," says Luke. "It's because of that opportunity we have successful careers working in a sector we love. At a young age, I feel set up for my future. For that, I'm grateful."