A Matter of Character: How Sara Canning found her calling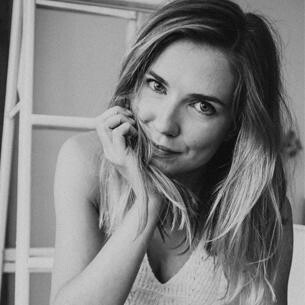 Not everyone can pinpoint the exact moment that set their life on its present course, but film and television actor Sara Canning remembers it vividly: In Grade 7, while auditioning for a school play.
"I don't remember why I decided to do it," Canning says. "I was really shy at that age. But as soon as I stepped on stage, I knew I was in the right place.
At the time Canning was attending F.R. Haythorne Junior High, an Elk Island Public Schools (EIPS) junior high in Sherwood Park, Alta. The play: Imitating Life. "I adored the process, and I loved how much we all laughed together," she says. "I felt I was part of a group of like-minded students, working together to create something. That feeling kept me coming back to drama class year after year."
From that point on, Canning enrolled in every drama class possible. First at F.R. Haythorne, and later at Bev Facey Community High, the EIPS senior high feeder school. In fact, she doubled down, taking both drama and musical theatre classes. "I was such a nerd," she says. "I wanted to take every theatre class I could."
She didn't know it at the time, but those long hours preparing for school productions taught her lessons she carries to this day. "I remember playing Anne in Anne of Green Gables, and Anne Sullivan in The Miracle Worker in school. Both roles asked a lot of me, and I was so moved by the journey of each character. I didn't have the language to articulate that feeling of connecting with a role, but I knew I was following the right path."
While her passion for the performing arts led her to her career, she credits a former teacher for fostering that passion. "I had so many great drama teachers," she says. "My junior high drama teacher, Monty Drozda, is a big reason I'm an actor today. His energy was amazing, and he encouraged the performing arts in a way that opened avenues for myself and many others to enter this industry."
After graduating from Bev Facey in 2005, Canning earned a degree from the Vancouver Film School, leading to an impressive career with more than 50 film and television credits—from small independent films to major Hollywood blockbusters. Even if she hadn't pursued a career as an actor though, Canning says her experiences in school would have pushed her to make acting a part of her life in some form.
"I believe there are moments of opportunity in our lives, and if we say yes to them, they lead to an unfolding of more and more opportunity. From that first audition in Grade 7 to today, I've had no doubt I'm following the right path, and that's a pretty great feeling."