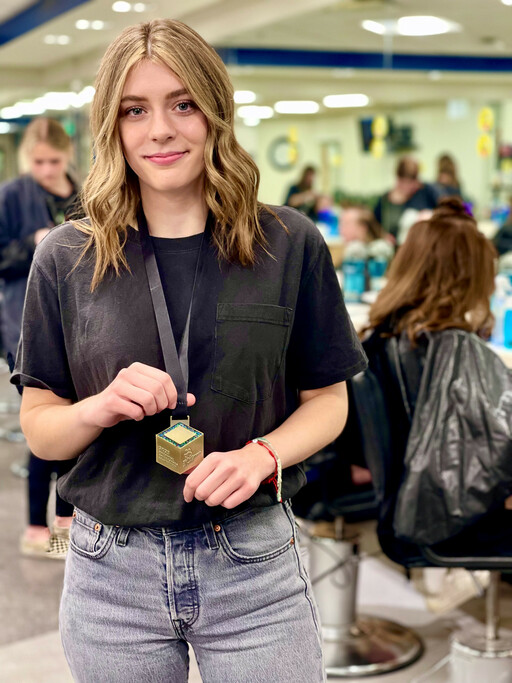 Sherwood Park, AB. — A Grade 12 student from Bev Facey Community High spun her hair design technique, creativity and execution into gold at the recent Skills Alberta competition.
"At first, I was a bit shocked to hear that I won the Senior Hairstyling competition, but I was very excited and happy too," says Leah Fraser. "Skills Alberta did a great job running the event and the whole experience was unforgettable and a great opportunity. The biggest thing I learned was to work fast while doing the best I could. In the cosmetology room, you don't really have a time crunch—in the actual hair industry, you do. Having a time limit and judges mark your work makes it more realistic and pushes you to succeed—just like how you would with a real-life client."
With her provincial success, Fraser has earned a place on Team Alberta and will be competing at the Skills Canada National Competition in Winnipeg on May 25 and 26. "I'm excited for nationals but also very nervous," adds Fraser. "It's going to be hard but I'm ready to face the challenge, represent my province and push myself out of my comfort zone. I wouldn't be able to do this without the support from Bev Facey and the time and energy that my cosmetology teachers have put into teaching me everything I need to know."
Fraser is not the only Elk Island Public Schools (EIPS) student to succeed at Skills Alberta. Julia Tuckwood, a Grade 9 student at Sherwood Heights Junior High, cooked her way to second place in the Junior High Culinary Challenge and won an Outstanding Safety Skills award, while Dylan Daly, a Grade 10 student at Bev Facey Community High, finished in 11th place out of 20 other competitors for the welding competition.
"We're so proud of all the EIPS students that competed in the regional and provincial competitions," says Kristin Oleksyn, a Career Pathways Supervisor at EIPS. "To have a student rise to the national level exemplifies the dedication and talent of the student and the mentors who coach them. Big congratulations to Leah as she moves into the national competition—all of us at Elk Island Public Schools are rooting for her."
Skills Canada has the only national, multi-trade and technology competition for students and apprentices in the country. Each year, more than 550 competitors from all regions of Canada come to participate in over 40 skilled trade and technology competitions. "The Skills Canada national competition provides the opportunity for Canada's top talent in trades and technologies to compete," adds Oleksyn. "It's an opportunity for these young Canadians to showcase their skills and expertise on the main stage, while also developing important career skills such as innovation, perseverance and critical thinking."
Skills Canada's mission is to encourage and support a coordinated pan-Canadian approach to promoting skilled careers in trades and technologies to youth and their communities. The organization values commitment, fairness and safety while striving to foster excellence, diversity and camaraderie through their interactive experiences. Skills Canada isn't limited to competitions—it also offers a variety of programs and initiatives in career exploration and skills development year-round.
"Lastly, I definitely wouldn't be going to nationals if it wasn't for my family," says Fraser. "They're my biggest cheerleaders and I know they'll always be there for me."
Elk Island Public Schools is one of Alberta's largest school divisions, serving approximately 17,460 students in 43 schools. We are proud to be an integral part of our communities, including Sherwood Park, Fort Saskatchewan, Vegreville, Strathcona and Lamont counties, and the western portion of the County of Minburn.
RELATED INFORMATION:
Skills Alberta Competition Results
Skills Canada National Competition 2023
Skills Canada Programs and Initiatives
–30–
For more information contact:
Laura McNabb, Director, Communication Services, EIPS 780-417-8204 cell 780-405-4902