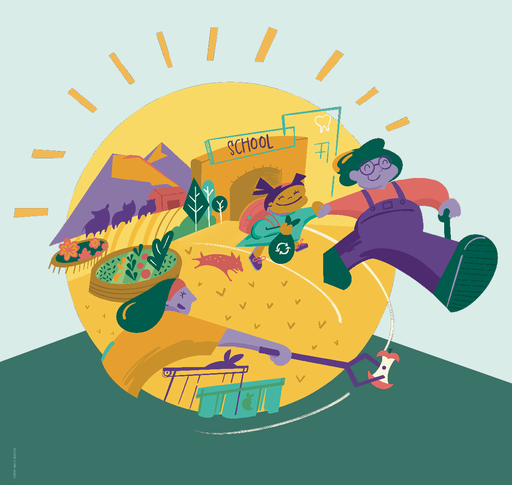 Sherwood Park, AB. — From May 1 to 5, students and staff across Elk Island Public Schools (EIPS) are celebrating Education Week and highlighting the importance of education in the community.
Education Week is led each year by the Alberta Teachers' Association and Alberta School Councils' Association and celebrated by schools provincewide. This year's theme is "Learning Uplifts All," which celebrates working toward an inspired future for public education. This includes optimal learning conditions for every child, students who enjoy learning and achieve their goals, opportunities for teachers to continue developing their professional skills, and parents and communities involved and supportive of learning.
"Education has a profound impact on all of us—no matter our age," says Trina Boymook, the Board Chair of EIPS. "Within the Division, learning happens at all levels, from students in their educational spaces to staff at professional development events. This Education Week, EIPS celebrates the continued growth and success of all learners in the communities it serves."
Throughout the week, various activities are taking place in schools across the Division. Activities include book readings, interviews with special guests, video creations, art projects, dress-up days, guest readers and more. Details include:
Brentwood Elementary: Members of the EIPS First Nations, Métis, and Inuit Education Team will speak about wellness from an Indigenous perspective. The school is also inviting teachers to swap a period with another grade to elevate and inspire students and staff. On display during the week, the school will have a "Look At How We Grow!" bulletin board with grades 1 and 6 student painting projects illustrating the same subject—Gerber daisies.
Fort Saskatchewan Elementary: Throughout the week, there'll be motivational and educational quotes shared over the daily announcements. On Monday, the school will provide a hot breakfast to staff to fuel the start of their day, and on Tuesday the entire school community will go outside to create the message "We Love To Learn" with their bodies and try to encircle the school in a hug. Wednesday is School Spirit Day, where students are encouraged to wear the colour they most connect with from the elements and school colours—blue, green, yellow or red.
Fultonvale Elementary Junior High: The school will have discussions in home room about how learning uplifts everyone—teachers will lead the discussion and ask students to record their ideas onto school post cards.
James Mowat Elementary: Students will learn about a range of countries through different subject areas. They'll explore diverse foods, currencies, games, music and geography—each within a corresponding subject.
SouthPointe School: On Monday and Tuesday, there'll be a schoolwide activity using the Building Fact Fluency Toolkits. Classes from Kindergarten to Grade 9 will buddy up so the older students can play a leadership role in helping the younger learners complete one of the word problems from the kits. Each problem has been pasted onto a balloon template to match this year's theme. After the word problems have been solved, they'll be displayed in the school for the rest of the week.
Wes Hosford Elementary: Students and staff will be featured during morning announcements, which will include poetry readings, storytelling and interviews.
Elk Island Public Schools is one of Alberta's largest school divisions, serving approximately 17,460 students in 43 schools. We are proud to be an integral part of our communities, including Sherwood Park, Fort Saskatchewan, Vegreville, Strathcona and Lamont counties, and the western portion of the County of Minburn.
–30–
For more information contact:
Laura McNabb, Director, Communication Services, EIPS 780-417-8204 cell 780-405-4902