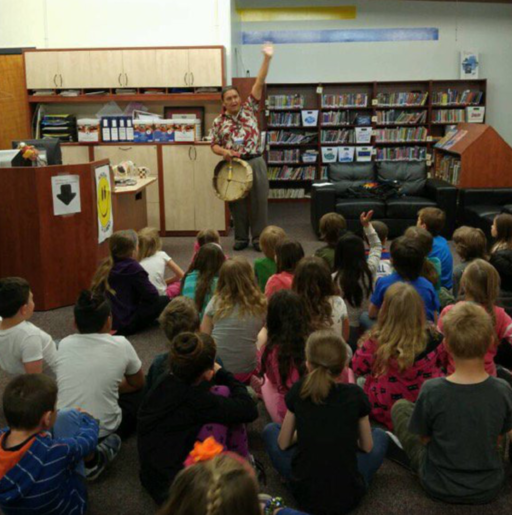 Sherwood Park, AB. — Representatives of the media, parents and community members are invited to join students from École Campbelltown as they unveil a school-created art piece honouring students of residential schools on Feb. 27, 2017.
Over the last year, students in kindergarten to Grade 6 have taken part in Project of Heart, a school initiative that includes lesson plans around Indigenous history and culture, and brings residential-school survivors into the classroom to share their personal stories. Each student is also given a wooden tile and asked to paint an image or word to symbolize what they learned through the program. The tiles, 530 in total, were then given to a local artist and teacher, Amanda Fayed, who pieced them together to create a work of art.
"The tiles are put together in the shape of a feather, which is a powerful symbol in Indigenous culture," says Fayed, who is also the Project of Heart lead teacher for Elk Island Public Schools. "The feather represents respect, trust, strength and wisdom. The hope is the feather will act as a reminder for students of what they've learned, which is all a part of the reconciliation process."
The Project of Heart program was first introduced at École Campbelltown in the fall of 2015. Since then, students have participated in four distinct steps. The first: students learned about residential schools in general. Next, they focused on a particular residential school. The third step—known as the first gesture of reconciliation—involved the artwork, where students were encouraged to communicate their feelings through art. Finally, in step four, an intergenerational residential-school survivor was invited into to the school to share his experiences.
"Elder Wilson Bearhead acted as our intergenerational survivor, offering a unique and very real perceptive that our students have certainly benefited from," says Elissa Corsi, the principal of École Campbelltown. "Overall, Project of Heart has offered our students the opportunity to learn a part of Canadian history that, until now, has largely been untold. The tiles are a great reminder of that and represents the school coming together to learn something that is so important."
Looking ahead, École Campbelltown plans to continue to incorporate Project of Heart lessons into its curriculum for students. In fact, the school is currently looking at ways to incorporate the fifth step in the Project of Heart program, which includes developing a social-justice action plan.
Event Details: École Campbelltown Tile Unveiling
Date: Feb. 27, 2017
Time: 1 p.m.
Place: École Campbelltown, gymnasium
Location: 271 Conifer St., Sherwood Park


École Campbelltown serves approximately 525 students in Kindergarten to Grade 6 offering a French Immersion program supported by the fine arts. Located in Sherwood Park, the school is one of 25 elementary schools within Elk Island Public Schools. For more information about the school visit www.campbelltown.ca.
–30–
For more information contact:
Elissa Corsi, principal, École Campbelltown, 780-467-5143
Laura McNabb, director, Communication Services, EIPS 780-417-8204 cell 780-405-4902