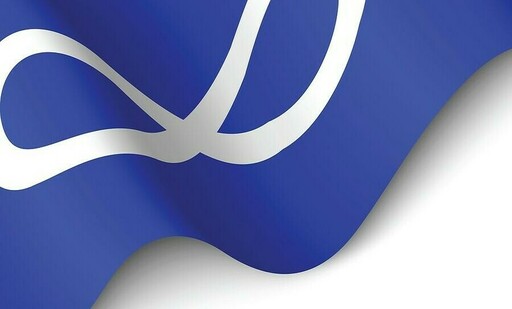 Sherwood Park, AB. — Representatives of the media, students, staff, school families and community members are invited to join Elk Island Public Schools (EIPS) as it officially raises the Treaty 6 and Métis flags on June 13. EIPS will livestream the flag-raising ceremony on its YouTube Channel and encourages everyone to watch the 30-minute event. Once hoisted, both flags will fly permanently at the EIPS Central Services Office, alongside the Alberta and Canada flags.
"Permanently flying both flags is a small gesture, but an important one," says Trina Boymook, the Board Chair of EIPS. "The flags are a reminder that EIPS sits on traditional Indigenous land and of the Division's commitment to reconciliation. They also symbolize the relationships we've built over the years, the progress made, the contributions of First Peoples to our community, and a continued and evolving partnership that, ultimately, is creating a better and stronger Division."
In 2015, not long after the Truth and Reconciliation Commission of Canada released its 94 Calls to Action, EIPS launched a First Nations, Métis and Inuit Education Centre. The goal: To engage and create understanding, at every grade level, about First Nations, Métis and Inuit history, perspectives and traditions. It took time, and the Division went slow. Six years later, every school within EIPS has built relationships with Elders and Knowledge Keepers, and is learning how to embed Indigenous perspectives in the curriculum. As a result, there deepened understanding, dialogue between Indigenous and non-Indigenous communities, and a fostered curiosity about reconciliation. The raising of the Treaty 6 and Métis flags at the Division office is an extension of this work.
"We've come so far in a relatively short period of time," says Jeremy Albert, the First Nations, Métis and Inuit Education Advisor at EIPS. "There's deeper knowledge among students and staff. There's a sense of excitement to continue to build capacity to further develop understanding of Indigenous cultures, and the history we all share on this land. The raising of the two flags feeds that curiosity and journey. Going forward, the flags will serve as a visual reminder of our shared responsibility, as treaty partners, to engage with one another, honestly and respectfully—another step forward in our journey toward reconciliation."
Treaty 6 is an agreement between First Nations in the area and the British Crown that was made in 1876. While various exist in Canada, Treaty 6 lies within Canada's numbered treaties, 1 to 11, covering territories between Ontario and Alberta, portions of British Columbia and the Northwest Territories. The Treaty 6 flag acknowledges this history and is a reminder everyone in Treaty 6 territory can work together in a respectful way. Meanwhile, the Métis flag acknowledges Métis nationhood, its rich history, and the strength and resiliency of its citizens.
Representatives of the media are invited to join the flag-raising ceremony in person. All others are encouraged to watch the ceremony live on the EIPS YouTube Channel. For media, there will also be an opportunity to take photos, speak with EIPS representatives and learn more about the significance of the flags and flag-raising ceremony.
Event Details:
Date: June 13, 2022
Time: 10 a.m. to 10:30 a.m.
Place: EIPS Central Services Office, 683 Wye Rd., Sherwood Park, AB.
Watch live:  EIPS YouTube Channel
Elk Island Public Schools is one of Alberta's largest school divisions, serving approximately 17,125 students in 43 schools. We are proud to be an integral part of our communities, including Sherwood Park, Fort Saskatchewan, Vegreville, Strathcona and Lamont counties and the western portion of the County of Minburn. To learn more visit www.eips.ca.
RELATED INFORMATION:
EIPS First Nations, Métis and Inuit Education Centre
EIPS First Nations, Métis and Inuit: Newsletter
EIPS First Nations, Métis and Inuit Education Centre: Background
Land and People Acknowledgment
–30–
For more information contact:
Laura McNabb, Director, Communication Services, EIPS 780-417-8204 cell 780-405-4902