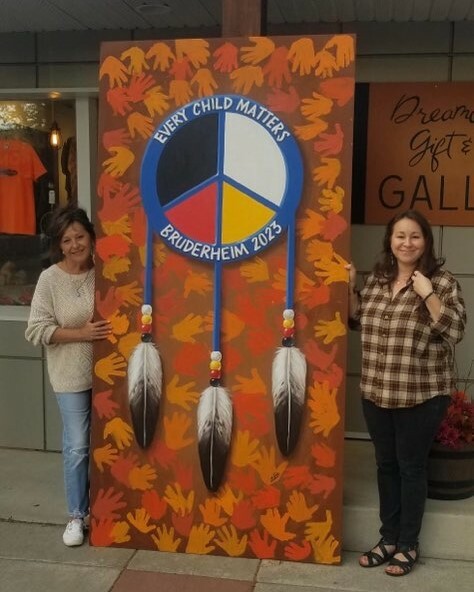 Sherwood Park, AB. — Today, students and staff throughout Elk Island Public Schools (EIPS) wear orange and take part in lessons focused on Indigenous education to commemorate the National Day for Truth and Reconciliation. The day coincides with Orange Shirt Day and is intended to acknowledge the history of residential schools, remember the victims and honour the Survivors. The official day takes place on September 30—a Division closure day. As such, schools mark the day annually on September 29.
"Each year, EIPS staff and students learn more about the history and legacy of residential schools and how to make meaning in an age-appropriate way," says Cheryl Devin, the First Nations, Métis and Inuit Education Consultant at EIPS. "Teachers are skilled at selecting resources and activities that help students learn this dark chapter in our shared history, yet protect their hearts, give them agency to make change and provide hope for our future together on this land. I'm grateful to everyone who leans into this learning and makes commitments to be in good relation with others."
Throughout the day, EIPS staff will lead students through activities to deepen their understanding of Indigenous cultures and the effects of colonization. Activities include stories of Survivors, lessons about the context of residential schools within our shared history and engaging in the topic through art, storytelling and dialogue. School-specific details include:
A.L. Horton Elementary: Students and staff are decorating the trees outside their school with orange decorations to bring awareness to Orange Shirt Day in their community. Leading up to the day, the school also highlighted different Indigenous cultural practices, such as throat singing and ribbon skirt making.
Bev Facey Community High: The school's Aboriginal Studies students travelled to the Mission of Hope to help deliver food to people in need on September 26 and 28. Bev Facey Community High also had Turtle Talk in its library, focusing on the Truth and Reconciliation Commission's mandate and its significance to the school community. On September 29, the school is hosting a five-minute ceremony along with a minute of silence, honouring the students who never returned home from residential schools.
Bruderheim School: Leading up to Orange Shirt Day, the school's staff and students have been participating in the Northwest Regional Learning Consortium's week of daily interactions with Elders and Knowledge Keepers from across Alberta. These daily events showcase Indigenous languages and cultures through dance, sport, music, art and storytelling. Bruderheim School also teamed up with the Town of Bruderheim to repaint the "Every Child Matters" crosswalk—an initiative led by Bruderheim School student McKenna Bonner last year—and create a mural that will be proudly displayed in Bruderheim.
Fort Saskatchewan Christian: The school will display a bulletin board covered in paper feathers around the theme "Every child deserves."  Each class is being given a set of feathers for students to colour and to write a word or a sentence of what each child deserves, such as to be loved or to feel safe.
Fort Saskatchewan Elementary, Wes Hosford Elementary and Westboro Elementary: Students are creating their own paper orange t-shirts or hearts, which will have messages of hope and love. The finished art projects will be displayed throughout their respective school buildings.
James Mowat Elementary: For Orange Shirt Day, the school is putting together a visual display of orange shirts on its front lawn to bring attention to, and remember, First Nations, Métis and Inuit children who were forced to attend residential schools. James Mowat Elementary is also conducting a schoolwide reflection and remembrance assembly.
Strathcona Christian Academy Secondary: The school's student activism group Teens Against Violent Oppression, or TAVO, created 600 orange ribbons leading up to Orange Shirt Day. Today, every student in the school will receive one and wear it for a moment of silence.
Elk Island Public Schools is one of Alberta's largest school divisions, serving approximately 17,500 students in 42 schools. We are proud to be an integral part of our communities, including Sherwood Park, Fort Saskatchewan, Vegreville, Strathcona and Lamont counties, and the western portion of the County of Minburn.
RELATED INFORMATION:
EIPS Student Paints Sidewalk to Spread Awareness About the Impact of Residential Schools
National Day for Truth and Reconciliation
Orange Shirt Day
–30–
For more information contact:
Laura McNabb, Director, Communication Services, EIPS 780-417-8204 cell 780-405-4902