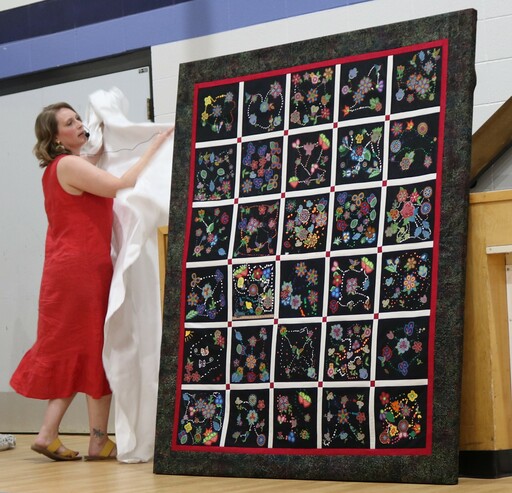 Sherwood Park, AB. — Westboro Elementary students unveiled five handmade quilts at a school event to celebrate Métis culture—each quilt featuring an appliqué technique and fabric paint that emulates the flower beadwork of the Métis people. Métis Artist and Knowledge Keeper Connie Kulhavy worked with students on this unique legacy project.
"It was so beautiful seeing it all come together with all the colours, patterns, and shapes to make a beautiful sight," says Cohen Scanga, a Grade 5 student at Westboro Elementary.
In addition to the five quilts, Westboro Elementary also showcased one of Kulhavy's beaded hearts and a printed book containing images of all the pieces created and quotes from K-6 students, which commemorate their learning during the project.
The five quilts will be displayed at Westboro Elementary during the year and changed out seasonally. The school will also feature Kulhavy's heart in a frame to represent the true style of beading and as a treasured reminder of the learning for years to come.
"From the moment Courtney and I decided on creating quilts, it became an idea in creation," says Kulhavy. "Not knowing the end results was kind of exciting. I love how things grow organically just as the universe does."
Westboro Elementary is one of the first schools in Elk Island Public Schools (EIPS) to enter into a relationship of learning with Kulhavy. Her teachings are invaluable and have included weaving, beading, painting and more—students and parents alike have participated in these dynamic and engaging opportunities to learn about Métis culture.
Elder and Knowledge Keeper Calvin Racette emphasizes the cultural significance of quilt creation. "Women from the settlers' society and Indigenous communities began making quilts as a form of teamwork—teaching skills, sharing cultural knowledge and building community," says Elder Racette. "Educators have seen the value of this teamwork, creativity and community development, inviting sharing group makers to participate in schools to share their knowledge. Designs connected to the land have become very popular in the quilts and are used to teach about relationships and interconnectedness. Traditional teachings can be incorporated into the process and passed onto the next generation."
For more information on EIPS First Nations, Métis and Inuit education visit eips.ca.
"It makes me feel special that I was part of this," says Maeve Mast, a Grade 5 student at Westboro Elementary. "I can't believe some small idea can turn into something so big!"
Elk Island Public Schools is one of Alberta's largest school divisions, serving approximately 17,460 students in 43 schools. We are proud to be an integral part of our communities, including Sherwood Park, Fort Saskatchewan, Vegreville, Strathcona and Lamont counties, and the western portion of the County of Minburn.
RELATED INFORMATION:
Schools Learn from Métis Artist and Knowledge Keeper Connie Kulhavy
–30–
For more information contact:
Laura McNabb, Director, Communication Services, EIPS 780-417-8204 cell 780-405-4902